Mountain View, CA, September 13, 2023 - Intuit has announced the launch of QuickBooks Money, a new digital banking and payments solution designed specifically for small business owners. QuickBooks Money provides a suite of financial services, including banking, payments, and money management, at no monthly cost.
With QuickBooks Money, entrepreneurs can open an FDIC-insured business bank account through Intuit's partner Green Dot Bank without minimum balance fees or monthly subscription costs. Business owners receive a QuickBooks Visa debit card for free ATM access at over 19,000 Allpoint ATMs nationwide. They can also earn a competitive 1.75% APY on funds held in QuickBooks Money envelopes, 25 times the national average interest rate.
Key features and benefits
A key benefit of QuickBooks Money is the ability to get paid fast. The service allows customers to send invoices and payment requests via mobile app or web. Recipients can pay with all major payment methods, including credit/debit cards, ACH bank transfer, and popular apps like Apple Pay, Google Pay, PayPal, and Venmo. Eligible payments hit a business owner's account the same day, even on nights, weekends, and holidays.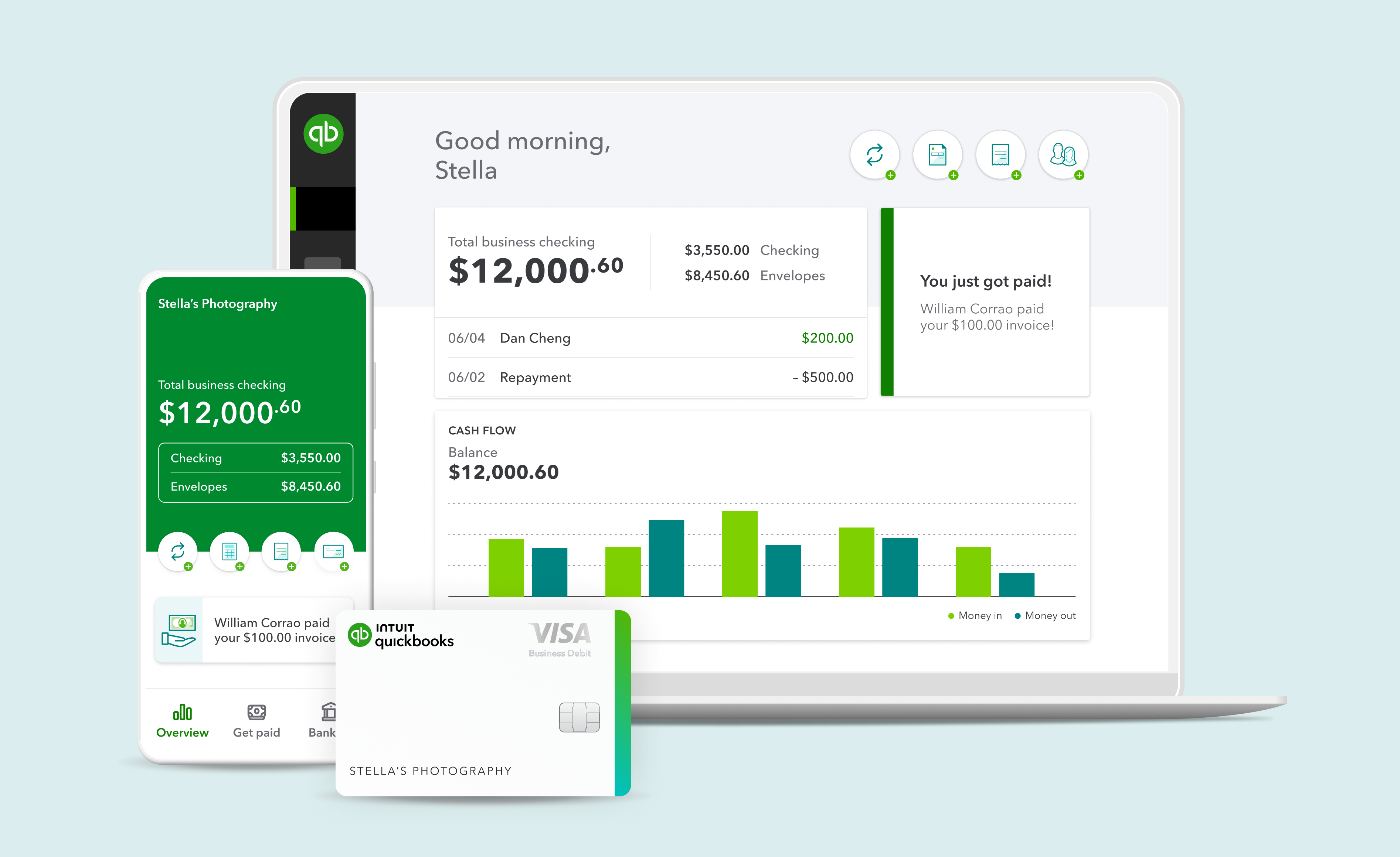 In addition to getting paid quickly, QuickBooks Money helps entrepreneurs manage cash flow. The service allows users to create envelopes to stash cash for upcoming expenses. Owners gain insights into income, outflows, and account balances to inform smart money decisions.
With QuickBooks Money, business accounts are FDIC insured up to $5 million through Intuit's deposit sweep feature. This automatically spreads balances over $250,000 across a network of insured banks to maximize coverage.
Seamless Upgrade Path
QuickBooks Money provides a streamlined alternative to QuickBooks' full suite of accounting and financial management solutions. It delivers core financial services small business owners need when first starting out. Those who eventually require tools like accounting, payroll, and workforce management can seamlessly upgrade to QuickBooks' ecosystem of subscription products.
Empowering Small Business Success
Dave Talach, senior vice president of the QuickBooks Money Platform at Intuit, said,"QuickBooks Money represents an incredible opportunity to expand the reach of our fintech platform and give more small businesses access to powerful cash flow management tools. We believe this is a true front door to the future of small business success."
With the launch of QuickBooks Money, Intuit continues to innovate and expand access to financial services and cash flow management solutions for small businesses. The new offering helps entrepreneurs efficiently get paid, save money, gain financial insights, and manage expenses - all without a monthly fee.
The launch of QuickBooks Money exemplifies Intuit's Big Bet 1, Revolutionize Speed to Benefit, by accelerating innovation to put more money back into the pockets of small business owners. By delivering core financial services with unmatched speed and eliminating subscription fees and hidden costs, QuickBooks Money gets entrepreneurs set up and paid quickly so they can confidently focus on growing their business. Intuit continues to leverage data, AI, and emerging technologies to revolutionize the financial experience and confidence of their customers.