Have you heard of Zero Dollar Checks? When is the last time you used one in QuickBooks Online? Let's explore why you might consider using Zero Dollar Checks (ZDC), and how to use them.
Background
When you create a Journal Entry in QuickBooks Online, let's say for $175.00, you cannot "Find" that entry when you do a search. The transaction simply does not show up. Even if you do an Advanced Search, you will not find the transaction.
Also, even though the Journal Entry screen has a Name field, even if you enter a Name, that Name does not show up on reports. Here's an example:
Sample Journal Entry in QBO
If you try a Search or Advanced Search for the amount of $175, this Journal Entry will not appear in the Search results.

Sample Report Detail
Notice how in the screen shot below the "Name" field is blank, even though we entered a Name in the Journal Entry.

The Zero Dollar Check
What is a Zero Dollar Check (ZDC)? It's a check you create, preferably in a separate Checking account you create in QuickBooks, for $0.00. Think of a ZDC as a replacement for a Journal Entry.
The first line of the check records the expense, or DR (debit).
The second line, in a negative amount, records the offset, or CR (credit).
Before creating your first ZDC, I suggest you create a new Bank, and name it "Journal Entry Bank" or "Clearing Bank." Then write all your Zero Dollar Checks from this bank. Since all the Checks written from this Bank will be for zero dollars, the Bank balance will always be 0.00. If it is not, any balance in the register is a red flag that something is amiss. Also, I recommend reconciling all clearing banks monthly.
Zero Dollar Checks have these advantages:
1. The Check will have a Payee, which you can easily locate in the Payee's Vendor transactions.

Use the real payee whenever possible, as shown in the screen shot below.

Otherwise, you can create some 'dummy' Payees such as: Journal Entry, Clearing Entry, Adjusting Entry, Balancing Adjustment etc. Don't create too many; pick which one you like and try to use it most of the time.




2. The ZDC will appear in Searches when you enter one of the dollar amounts in the check.





3. All ZDC will appear in a single register, the "Bank" you created above, making all such transactions easy to locate for future reference.
Here is an example of a ZDC to record an insurance expense, offset to Prepaid Insurance.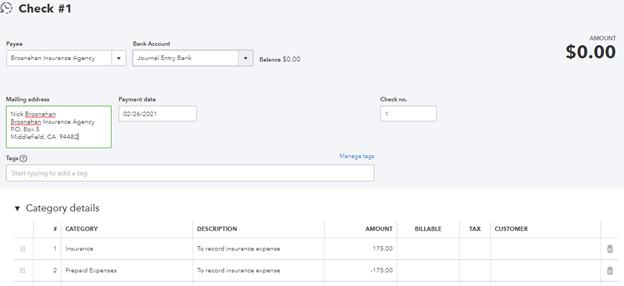 And here is what the report for this ZDC looks like. Notice in the screen shot, the report now shows an entry in the Name field.

When To Use Zero Dollar Checks
Here are some examples when a Zero Dollar Check is useful.
1. After-the-Fact Payroll Entry
Instead of using a memorized Journal Entry, setup a memorized (recurring) Zero Dollar Check. It will speed up payroll entry. Enter the Gross Wages as a positive amount, and the Net Pay and payroll taxes withheld as negative amounts to create your ZDC. For payroll entries, I create a Vendor called "Payroll Check" and I often create an additional clearing bank called "Payroll Entry Bank." Note, in this example, other entries are required to complete the payroll entry, but it all starts with the ZDC.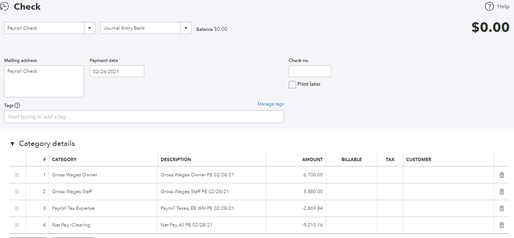 2. To Record PPP Loan Forgiveness
The first line of the ZDC will be the Long Term Liability account used to record receipt of the PPP Funds.
The second line will be the Other Income account used to move the PPP funds from the Balance Sheet to the Profit & Loss statement. It will have a negative amount.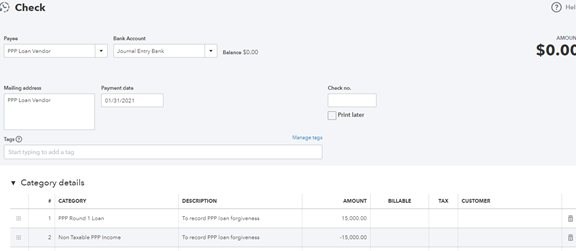 3. To Correct Account Balances
One of my clients set up a new Item on the QBO Products and Services List but did so incorrectly. The income from the Item was posted to an incorrect account, and I needed to fix it.
I used a ZDC to move the balance from the incorrect account to the correct account, on the appropriate date. Then I made the offending Item Inactive, and setup a new Item correctly.
Conclusion
Zero Dollar Checks used in conjunction with a Clearing Bank are a nice tool for several types of transactions. They make the transactions easier to locate in searches, by Payee, or in the Clearing Bank register, and unlike a Journal Entry, they appear with a Payee or Name on reports. Note: The principles of ZDC described in this article for QBO are also applicable for QuickBooks Desktop.