Our team often has the question posed as to whether QuickBooks Online is a good fit for construction companies. The answer is not that black and white or as simple as yes or no. The answer can be as varied and nuanced as each individual business.
With that in mind, let's discuss why QuickBooks Online with the Projects module enabled can be a great solution for a smaller construction company, particularly for those without a need for the percentage of completion accounting or other more exacting reporting requirements.
Three reasons smaller construction company clients will love QuickBooks Projects
1. Project Profitability Dashboards
One of the first things you'll notice when you open the QuickBooks Online Projects module is the project profitability dashboard. It gives information about all the projects across the company on one screen. You can tell at a glance if a project is profitable, what the profit margin percentage is, and how many hours have been spent on the project.

Taking that a step further, when you click into the individual project screen for each job, you can see the same information broken down even further with an outline of where the overall revenue and expenses are posted, what the bottom line is, as well as open AR and how much is overdue.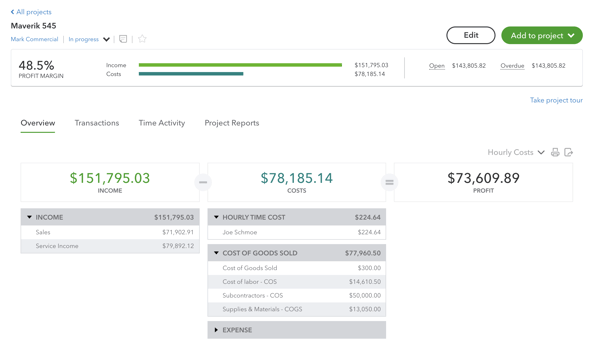 From the perspective of a busy construction company owner or project manager, having this information available at a glance is invaluable.
2. Burdened Labor Rates
The next feature built into the Projects module that helps take a small construction firm's job costing to the next level is building a burdened labor rate and having that burdened labor cost populate on the project-specific dashboard.
From the main Projects dashboard, when you click the Hourly Cost Rate button you can build burdened cost rates for employees.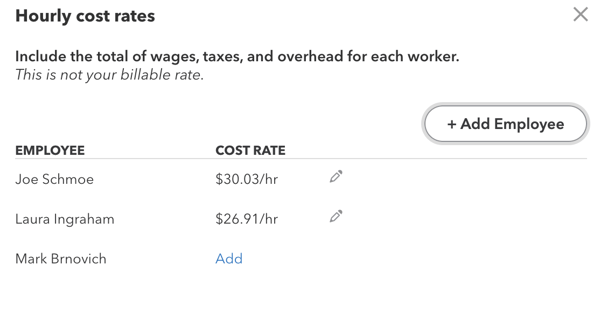 If your construction company client has already calculated cost rates, you can simply type in the pre-calculated cost. If not, then Intuit has taken it a step further by giving you a cost calculator that not only prompts you to fill it with commonly used burden items such as worker's compensation but even prefills the Social Security and Medicare tax amount for you based on the employee's hourly wage.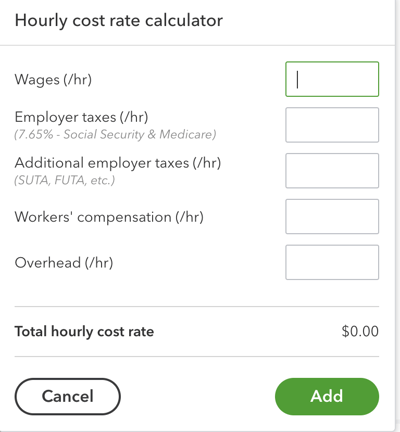 Once you begin to add employees, two things happen in the Projects module:
If you have an employee but no cost rate has been added for him or her, the Projects module places a warning symbol next to the Profit Margin column on the main Projects Module page to alert you that your Profit Margins may be skewed for lack of good cost information.

Once all the appropriate cost rates have been added and you begin tracking time in QuickBooks, all of the time entries end up on the project-specific dashboards as an Hourly Time cost. This takes place in the Costs portion of the visual profit and loss section.
Drilling down into the Hourly Costs item, you can see that all of the hours tracked to a project are also now showing as costed to this project with the burdened rate.
This gives a much more accurate picture of each project's margins than simply entering direct labor costs against the project.
3. Easy Access to All Transactions Tied to a Project
The third feature of the projects module is easy access to every transaction tied to this project. Before the Projects module existed, it was an arduous task to search for bills, expenses, and the like tied to the project.
Now, to see all expenses associated with any particular project, you simply:
Click into the Projects Module
Click into the correct project
Go to the Transactions tab
Here, you see a listing of all Estimates, Invoices, Bills, Expenses, Checks, and even Billable Expense Charges and Time Charges marked billable on this project.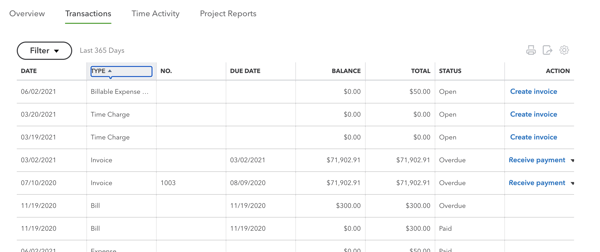 You can sort the transaction list by any of the columns across the top (with the obvious exception of the ACTION column.) So, if you want to see all transactions of a certain type, from a certain date, or of a certain status, you sort using the columns. You can even filter the list for certain transaction types and/or dates.
This decreases manual time spent searching for project-specific transactions.
If you are talking to a small construction company that is just starting to look into job costing and who has never used accounting software (or only ever treated their accounting software as a checkbook,) then moving them up to QuickBooks Online is game-changing. Utilizing Projects Module for project reporting purposes can be a significant step up. And it is helpful to get them used to seeing all project information organized and in one place for ease of reporting and tracking.
Potential Pitfalls To Consider Before Using QuickBooks Online Projects
1. Burdened Labor Rate vs. Direct Labor Cost on Reporting
As impressive as the built-in Hourly Labor Cost button is in the Projects module, the biggest pitfall to avoid with it is duplicating your labor costs when calculating profit margin.
If you are using QuickBooks Time, having employees track their hours to a project, and then paying those employees out of QuickBooks Online payroll, the system will post those project-specific costs to whatever account you say to post it to on the chart of accounts.
At the same time, those hours are being calculated and added to that Hourly Time Cost report as discussed above. What happens now is that you will see those hours accounted for in the Hourly Time Cost report AND the Project Profitability report. Both reports feed into the Costs portion of the Profit and Loss information on the Projects module dashboards, which will skew the profit margin displayed.
Unfortunately, there is not a great workaround for this other than creating a post-payroll journal entry to manually move the direct, unburdened costs back out of this project.
Ironically, the problem is minimized if you are not using Intuit's built-in QuickBooks Online Payroll Solution. If you are utilizing an outsourced payroll solution, you can easily post the information from that outsourced payroll solution straight to the general ledger and avoid entering any project data which will keep it from ever showing up on the Projects module dashboards and will not affect the project profitability.
2. No Ship To Field
The last small thing to notice about the Projects module is that Intuit has not, as of the writing of this article, included any place to input a Ship To address for projects in the Projects module. This can be a minor annoyance for clients who need this information to translate into other connected apps (such as time-tracking or project management apps) or have that type of information be pulled into other internal QuickBooks transactions such as purchase orders.