Since the onset of the COVID-19 pandemic in early 2020, many accounting firms have been allowing employees to work remotely out of their homes. There are many benefits to the work-from-home environment. Employees see a better work-life balance, have experienced less stress, and have saved both time and money from eliminating the daily commute. Businesses may be able to save on office rent, utilities, commuter benefits, and other overhead. But there are also drawbacks for managers, including challenges in managing staff that are in different locations. This article will provide some tips on how to manage employees that are working remotely so that efficiency does not suffer.
The History of Working Remotely
Remote work may seem like a new phenomenon, but it has been around for several decades. Technological advancements such as high-speed wireless internet, laptops, and teleconference solutions have made remote work accessible to almost everyone with a "desk job". As a result, most accounting professionals had at least some experience working remotely outside the office. When the pandemic hit in 2020, the technology and familiarity were already in place to allow employees to work remotely on a full-time basis.
In many cases, what was missing was policies and procedures to help firms regulate, communicate, and set expectations with their employees. Like many managers, this may have made you feel vulnerable. And you may still be figuring out ways to best manage employees in a remote or hybrid environment. If this sounds like you, below are some tips to help.
Set Expectations for Remote Workers from the Beginning
If you don't already have general policies in place, they should be created sooner rather than later. Make sure to define expectations around areas such as work hours, meeting protocol, use of company laptops for personal use, and other important topics. Keep in mind that due to the pandemic, you may need to be flexible. For example, some employees with school-age children may not be able to be at their desks from 9-5. Make sure the policies are communicated clearly to each employee and be candid with the thought process behind those policies.
Since this is new terrain for many leaders, take time on a periodic basis to assess if the remote work policies you put in place are working. Do not be afraid to tweak things like meeting schedules, time tracking and billing as needed – working remotely should be something that benefits both the firm and the employees.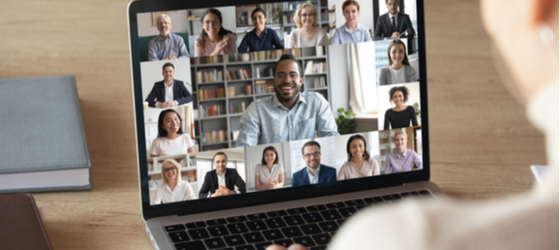 Create a Communication Cadence
Working in a different location than your team can make communicating difficult. In order for productivity and quality of work to remain optimized, it is vital for you and your direct reports to communicate effectively.
Since you can no longer swing by your employees' desks, setting up regular meetings can help your team stay in touch. Decide how frequent (daily touch base, weekly one on ones, etc.) and whether it should be by call or videoconference.
Another tricky part of managing remote employees is understanding their availability. Establish how long until an employee is expected to respond, as it may be different from when you were in the office together. This expectation will likely vary by team member depending on their work schedule.
Use Software to Help
A good accounting practice management software package can provide uniformity and a sense of cohesiveness when it seems like every employee is working in their own bubble. Functions such as time-tracking will help you gauge employee efficiency when you can't see it with your own eyes. Tools such as file sharing and standard templates will help keep the team connected. Accounting software solutions can help with all of these functions, from time tracking and billing to file sharing and reporting. The great thing about a robust software solution is that it can continue to be used even if you open your office to work in person.
Conclusion
Even as the pandemic eases, remote work in the accounting world probably isn't going anywhere. Luckily, the arrangement has the potential to be rewarding for both employees and managers. The tips above will help you reap the benefits of remote work while mitigating some of the drawbacks that can arise. If you are flexible and everyone agrees on the standards for communication and collaboration, you can manage your remote employees effectively without missing a beat.