It seems like the Postal Service has been listening to their business customers. The launch of USPS Connect is a positive response to business needs by offering fast local, regional and national deliveries and returns at an affordable rate.
"USPS Connect provides businesses of all sizes what they have been asking for — an affordable way to meet consumer demand for fast delivery," said Postmaster General Louis DeJoy.
"A pivotal point in our Delivering for America plan, it positions us to more fully leverage our network capacity to increase volume and revenue so we can continue to serve the American people with affordable, reliable mail and package delivery."
Do you have clients that ship? Please feel free to share the information below with them. You could use this as a conversation starter about ways you can help them fine-tune operations and improve expense management.
USPS Connect Local
USPS Connect Local offers same-day or next-day services in your neighborhood (with some limitations) and includes USPS Connect Local Mail which is a First-Class Mail option for documents up to 13 ounces. The service uses USPS supplies, such as flat rate boxes, or your own packaging or envelopes.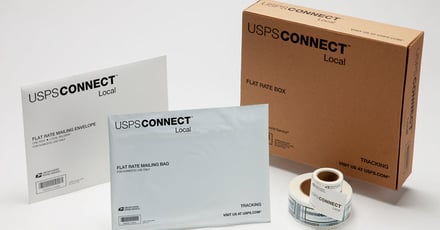 Connect Local will be easy to use. Enter information online, print the pre-paid label, attach it to a free flat-rate bag, box or envelope (available via Click-N-Ship), and take the package to the designated post office or take advantage of free en-route pickup when the business receives mail delivery.
Connect Local provides services six days a week and, in some locations, includes Sunday delivery. Some areas will have free package pickup as well.
USPS Connect Local is being rolled out over the next few months and is expected to be in more than 3,400 locations by September 30th. As of this writing, it is available in Texas and New Jersey and will be available this month in Delaware, DC, Georgia, Maryland, and Pennsylvania. This chart shows when USPS Local will be available in your state.
USPS Connect Regional
USPS Connect Regional offers next-day or next-day and two-day regional deliveries of Parcel Select packages and Parcel Select Lightweight packages. The service is available six days a week.
To use Connect Regional, businesses should complete the contact form here and a USPS representative will contact them. The representative will consult with the business on the nearest entry points and options for regional deliveries.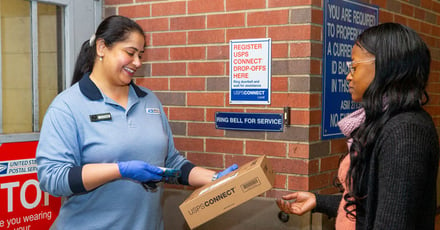 USPS Connect National
USPS Connect National provides national delivery solutions. Although the delivery names remain the same (Priority Mail Express, Priority Mail, First-Class Package Service, Parcel Select Ground and Retail Ground), businesses are now benefiting from new mail processing equipment and a reconfigured network.
USPS Connect Returns
USPS Connect Returns make any returns easy and cost-effective. The service is offered six days a week and provides customers with free package pickup (some restrictions apply). This convenience means your customers will make returns quicker, allowing businesses to restock faster.
Connect Returns is easy for businesses and their customers. When the customer requests a return, the business provides a return label, the customer prints the label and attaches it to the package, the customer schedules the pickup and puts the package in their mailbox (or designated area) for their carrier to pick it up. The business and the customer are both receive tracking information.
Valuable USPS Links
Sign up for a free USPS.com business account
Information about USPS Connect Local
Information about USPS Connect Regional
Information about USPS Connect Returns
Order free flat-rate bags, boxes and envelopes via Click-N-Ship