Last week, Intuit launched a new program to reward and recognize accountants - the new QuickBooks ProAdvisor Preferred Revenue Share program.
Intuit's mission is to "power prosperity around the world" and it has done so not only through providing essential tools for accounting professionals but also by assisting accountants in expanding their practices and increasing their effect. The company's focus on support for ProAdvisors has sparked the creation of this new revenue-sharing program for ProAdvisors.
Eligibility in the Revenue Share Program
Currently, Intuit's revenue share program is in Beta and has only been rolled out to a few hundred ProAdvisors. The program will be made more widely available in the coming months.
Benefits of Intuit's ProAdvisor Preferred Revenue Share Program
The revenue share program applies to ProAdvisors who create new QuickBooks Online or Payroll subscriptions. Through the program,
ProAdvisors will get 30% of the billed price on base fees and 15% of the employee fees for 12 months.
Clients will get their first month free as well as a 50% discount for the next three months.
With the revenue share program, the client is directly billed.
Revenue share payments will be made to the ProAdvisor after the first month and may take up to two months to be made. This is due to the fact that the client starts with a 30-day free trial, and the compensation is computed only after the client begins paying.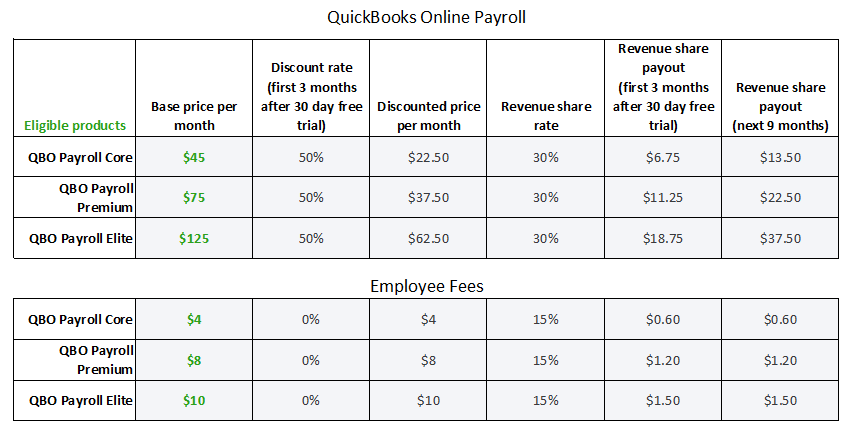 Enrolling Your Firm in Intuit's ProAdvisor Preferred Revenue Share Program
Your firm's primary admin or firm owner will need to complete this process. Note: you will need your firm's tax ID number to begin.
1. Sign in to QBO Accountant and select the gear icon.
2. Click on Subscriptions and billing.
3. Click the Revenue share payouts tab and click the Get started button.
4. Complete the application and Submit.
Adding a Client to Your Firm's Revenue Share Program
Adding new client subscriptions within the revenue share program is easy.
1. Sign in to QBO Accountant and select Add client.
2. Under the Bill my client, select Revenue share and select the appropriate product(s) for your client.
3. Add your client's information and select Save.
This process starts the free 30-day trial. The client will receive instructions on accessing their new account and will be informed they will need to add their payment information to activate the subscription and receive the 3-month 50% discount.
Clients are not notified of a firm's participation in the revenue share program.