Here are some thing that have happened in the accounting and bookkeeping world this week. Read about a newly available product from Intuit, which company is purchasing accounts payable automation provider MineralTree, and a card provider offering a new cash back perk.
When Intuit debuted their QuickBooks Card Reader in July, they also announced that the optional Power Stand would be available later this summer. It is now available. The Power Stand is a wireless charging device for the QuickBooks Card Reader. A notable feature of the Power Stand is its ability to charge USB-compatible devices like phones or tablets through the integrated USB port.
The QuickBooks Card Reader accepts Apple Pay®, Google Pay™, EMV chip, and debit and credit cards and connects wirelessly to your phone or tablet via Bluetooth in the QuickBooks GoPayment iOS and Android apps. The card reader can hold a charge for up to a week (depending on usage) and can be charged either with the included cable or wirelessly with this Power Stand. If you already have the card reader, you can purchase the Power Stand for $39 or you can invest in both devices as a bundle for $79.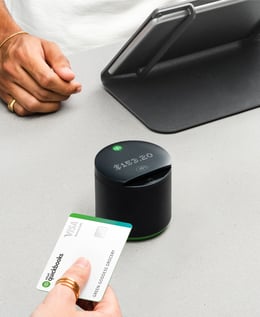 MineralTree, provider of accounts payable automation and business-to-business (B2B) payments solutions, has entered into an agreement with Global Payments. Under the agreement, Global Payments will acquire MineralTree for $500 million in cash. Jeff Sloan, CEO of Global Payments, said, "The addition of MineralTree's digitized payables solutions enhances our B2B product suite and expands our opportunity set in one of the largest and most underpenetrated markets in software and payments. We intend to scale our combined B2B initiatives more quickly by leveraging our extensive distribution channels and leading cloud centric technologies globally."
Are you an Expensify customer? If so, you probably received an email about their new cash back perk. If not, here are the details. Users of the Expensify Card will automatically earn cash back on all purchases - 1% cash back will be earned every month a user spends over $25,000 combined across all cards and 2%cash back will be earned every month a user spends over $250,000 combined across all cards. If you are a current cardholder, you will see the cash back return automatically applied to your August statement.