Achieving excellence in an accounting or bookkeeping firm is a journey of constant learning and adaptation. The Woodard®️ Ideal Practice Symposium, recently held in Atlanta, Georgia, and Austin, Texas, last week, provided a platform for over fifty accounting firm owners and leaders to learn how to sculpt their practices into models of success.
Crafting an Ideal Practice
At the heart of the symposium were the 'seven pillars of the ideal practice,' a set of principles essential for building a robust and successful accounting firm. These pillars of the Woodard Ideal Practice Model™️ served as the framework for the event's comprehensive learning sessions.
Leadership and Services
Personal leadership, encapsulated in the 'ideal you' pillar, was addressed by Woodard CEO and thought leader Joe Woodard and VP of Communities, Patricia Hendrix, who emphasized self-awareness and growth. Equally important, the 'ideal services' sessions focused on developing service offerings that not only meet but foresee client needs while aligning with the vision, mission, and purpose of the firm, ensuring a practice's offerings are both relevant and valuable.
Clients and Processes
The symposium also highlighted the significance of choosing the 'ideal client' and refining the 'ideal process'—ensuring that the clientele and the internal workings of the firm are in perfect alignment to deliver optimal results.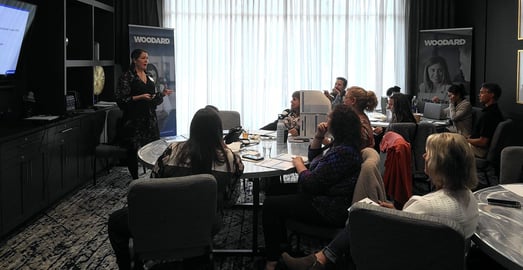 Process optimization and automation expert Heather Satterley led a workshop to help attendees identify and prioritize the processes in their firms that should be documented and optimized first to deliver the most impact to their firms.
Technology's Role
A standout session on 'ideal technology' was presented by tech experts Heather Satterley and Liz Scott, known for their show 'The 'Appy Hour with Liz and Heather.' They offered deep insights into how the right technological tools can enhance firm operations and client experiences.
The Pricing Strategy Workshop
A key highlight on day two was the strategic pricing workshop led by Joe Woodard and Patricia Hendrix. This session provided attendees with a fresh perspective on pricing strategies, illustrating how thoughtful pricing models can significantly enhance a firm's revenue. It challenged attendees to reevaluate how they price their engagements and offered actionable insight to "right price" existing clients and boost profitability.
Looking to the Future
With the success of the symposium, the journey doesn't end here. The series will continue with upcoming events planned for December in Costa Mesa, California, and Mount Laurel, New Jersey – near the greater Philadelphia area.
For those inspired to transform their firms, the Woodard Ideal Practice Symposium is an opportunity not to be missed. As the symposium prepares to welcome participants in its next locations, interested professionals are encouraged to learn more and register through this link. This symposium is more than just an event; it's a stepping stone toward the pinnacle of accounting practice excellence.