Earlier this month, Intuit announced that QuickBooks Desktop 2022 products will only be available by subscription. In addition to specific benefits available due to the transition to a subscription model, we are now learning about the new features that will be available in QuickBooks Desktop 2022.
This article provides an overview of the features and benefits of QuickBooks Desktop 2022. My article in Intuit's Firm of the Future provides more detailed information.
QuickBooks Desktop Plus 2022 Windows Editions
Windows editions of QuickBooks Desktop Plus include Pro Plus, Premier Plus, Accountant Plus and all editions of Desktop Enterprise. Unless otherwise stated, the features listed below apply to all editions.
Subscription Benefits
Access to the latest version, with the most up-to-date features, security patches, and support for 3rd party operating system changes
Up to 38% faster, more reliable QuickBooks computing power (64-bit)
Unlimited customer support and data recovery at no additional charge (a $299.99 annual value)
Premium time saving and money management features
Increased productivity with the QuickBooks Desktop mobile app (available October 12, 2021)
New Features
1. Online bill payment from within QuickBooks with Melio®
Online bill payment with Melio can be accessed by selecting Vendors > Pay Bills or from within a vendor bill by selecting Schedule Online Payment on the top right of the main ribbon. When paying a vendor bill with a payment type that includes a separate processing fee, QuickBooks will create a vendor named Melio and add the charges as a vendor bill. QuickBooks will record the bill as paid as charges are deducted from your funding source. Features of bill pay by Melio include:
Schedule payments on a specific day
Payments can be made by ACH, Debit or Credit Card
Payments can be made to vendors as ACH or paper checks (vendor payment details are securely stored in Melio and not in the QuickBooks file)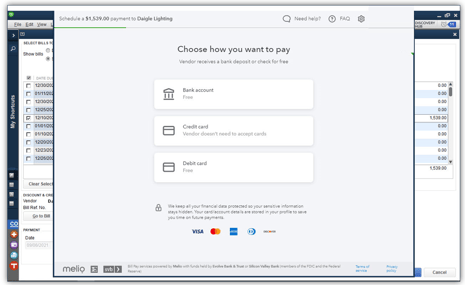 2. Vendor bill mobile uploads which auto-create bills for review
The ability to upload vendor bills is provided by the QuickBooks Desktop app, available for both Android and Apple devices. The feature can be accessed through the app by selecting Snap and Upload Bill or in an open QuickBooks company file by selecting Vendors > Upload and Review Bills in the menu bar. Features of mobile uploads include:
Vendor bills can be uploaded by snapping a picture in the mobile app or, alternatively, vendors can email their invoices directly to your customized QuickBooks email
Images are processed with artificial intelligence and machine learning to create a vendor bill transaction for your review
Digital copies of vendor bills are stored where the QuickBooks Desktop file is stored on your computer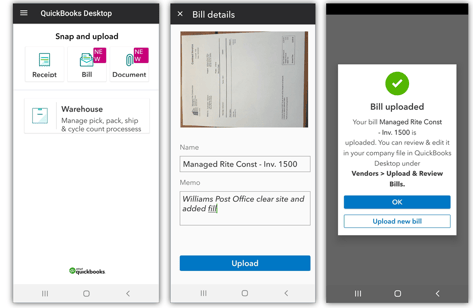 3. Customizable vendor bill payment stubs that can be emailed
The ability to customize and email vendor bill payment stubs allows you have professional and consistent communications with your vendors. The bill payment stub can be modified in templates in the Lists menu or on the formatting ribbon of a displayed vendor bill payment transaction.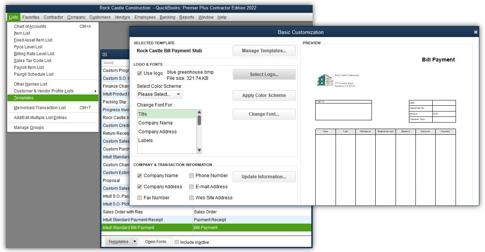 4. Ability to select one or more of multiple email addresses per customer
When emailing invoices to customers, you will now be able to select from a drop-down selection of emails associated with that customer.
5. Discovery hub
To preview the new features in QuickBooks Desktop Plus 2022, simply select Discover Hub from the top right on the menu bar.
New Features for Users with Active QuickBooks Payments Accounts
1. URL links to send to customers to pre-pay
When you need to receive a "deposit" from a customer without sending an invoice, you can now send a URL link to allow your customers to make that pre-payment. To access the URL link, select Customers > Payment Links from the menu bar.
2. Instant deposits
Merchant payments can be instantly deposited into the business bank account. From the menu bar, select Customers > Billing Solutions > Download Payments to review the instant deposit details and accept the deposit. Note: Maintenance release 5 and newer needed to access Instant Deposits.
New Features for Active Assisted Payroll Subscribers
1. Simplified Assisted Payroll activation
A simplified, streamlined, and guided assisted payroll activation process means fewer steps in setting up Assisted Payroll.
2. Next Day Direct Deposit
Users with an active Assisted Payroll subscription will be able to process payroll prior to 5 pm PST the day prior to payday. Funds will be debited from the bank account on payday.
New Feature for QuickBooks Desktop Enterprise 22.0
Accounts payable approval process
The new QuickBooks Desktop Enterprise 22.0 offers an accounts payable approval process, which can be accessed by selecting Company > Track and Approve Transactions. The process includes these features:
Ability to define a customizable approval process for vendor bills
A dashboard that organizes bills requiring specific approval before being paid
Email notifications to selected approvers and the accounts payable clerk so they know the status of vendor bills
Feature Available for an Additional Fee
Add-on e-commerce integration with Webgility®
To add on the Webgility e-commerce integration, select Company > My Company from the menu bar and choose from one of three different packages. Features include:
Integration with stores like Shopify, WooCommerce, Big Commerce and Magento

Integration with online marketplaces like eBay, Amazon and Walmart.com

Flexibility to work with your preferred shipping provider with integrations to UPS, FedEx, ShipStation and Stamps.com
QuickBooks Desktop Mac Plus 2022
Subscription Benefits
Access to the latest version, with the most up-to-date features, security patches, and support for third-party operating system changes
Unlimited customer support
Data recovery
Premium time saving and money management features
New Features
Improved bank feeds

Receipt Management

Automatically send customer statements

Apple silicon processor compatibility

Create customer groups

Choose from multiple email contacts

Improved transaction improvements

Collapse report columns & rows