Here are some takeaways (and pictures) from Scaling New Heights. For those unable to attend Scaling New Heights last week, you missed out on amazing education, motivation, innovation, networking, and fun! For those at #SNH22, you couldn't be everywhere at one time. Read on to find out what your peers found important and to see some just plain fun images.
Scaling New Heights Main Stage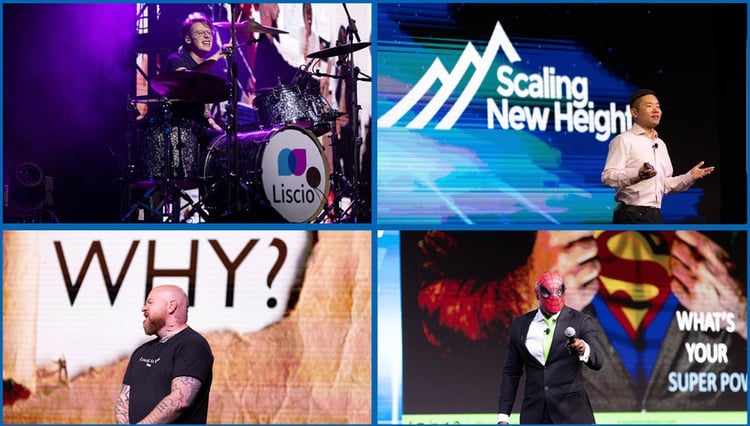 On Sunday, the main stage opened with a high-energy (and amazing) drum solo by Liscio's Brandon Mitchell. The musical performance, set to Journey's Separate Ways, led to four days of powerful presentations by top leaders in the small business world.
Kim Perell (pictured at the top of this article) is an award-winning entrepreneur, investor, and global CEO. During her keynote, Kim shared her story of going from being laid off at 23 to becoming a multi-millionaire by the time she was 30 years old. Kim is the best-selling author of the book The Execution Factor: The One Skill that Drives Success and recently published Jump: Do What Scares You in Business and Life.
Notable Kim Perell Quote: If you fail, learn from it. If you fall, get back up. If it feels impossible, keep going. That is the secret to success.
Jia Jiang (upper right) is the owner of Rejection Therapy, a website that provides inspiration, knowledge and products for people to overcome their fear of rejection. In 2015, he authored the Amazon bestselling book, Rejection Proof: How I Beat Fear and Became Invincible Through 100 Days of Rejection and was one of the most viewed TED Talks of 2017.
Notable Jia Jiang Quote: Rejection is just an opinion.
Carl Reader (lower left) is a serial entrepreneur, chairman of a business advisory firm, and author of Boss It, The Startup Coach and The Franchising Handbook. He has helped thousands of business owners either start or grow their businesses by helping them understand that business isn't difficult.
Notable Carl Reader Quote: Note to self: Do Not Quit.
Kaplan Mobray (lower right) is an innovative mastermind who has inspired and transformed countless lives through his insightful and groundbreaking approach to personal branding and leadership development.  Kaplan inspires audiences with practical strategies and "ah-ha moments." 
Notable Kaplan Mobray Quote: Don't plan strategy without celebration.
Breakout Sessions at Scaling New Heights
This year's breakouts were absolutely phenomenal! Here are screenshots and quotes selected by your peers.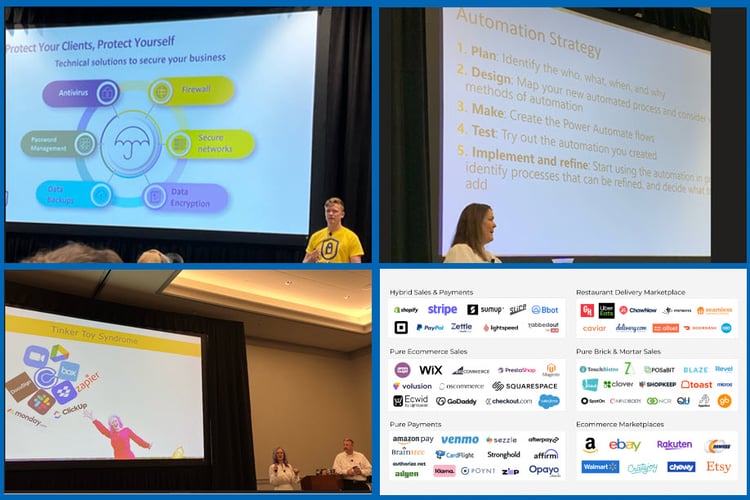 Data Security (upper left) - The session "Managing Risk According to the IRS 4557 Cyber Security Guidelines for Accountants" received a lot of comments in the conference App. This screenshot captured by Barbara S. explains the technical solutions you need to protect your business (and your clients need to protect their businesses). Thanks to Practice Protect for helping accountants and bookkeepers be IRS 4557 compliant!
Microsoft Power Automate (upper right) - Heather Satterley's session on "Introduction to Power Automate" was also highly rated. In the screenshot by Sara L, you can see Heather's steps for automation strategy. Heather recently authored an article in The Woodard Report about "Cultivating an Automation Mindset."
Migrating to Microsoft (bottom left) - In the session "Migrating Your Firm to Microsoft," Liz Scott compared some technology stacks to building with Tinker Toys. Sandy P captured this screenshot and captioned it, "I'm ready to simplify." Liz Scott and Heather Satterley also shared videos recorded live at Scaling New Heights to their QB Appy Hour Lounge Facebook page.
Ecommerce (bottom right) - "Ecommerce Accounting in a Post-Covid World" was a session taught by Jason Richelson, CEO of Bookkeep and ecommerce expert. This screenshot by Beth Anne K really captures the volume of solutions that need to be understood for ecommerce bookkeeping. To learn more about ecommerce bookkeeping, we recommend Bookkeep's blog.
A few more notes from attendees:
Candy B. - At the Joe Woodard Annual Brunch, Joe shared three inspirational ideas. Candy (and many others) were moved by this one by Thomas Cranmar. "What the heart loves, the will chooses, and the mind justifies."
Megan G. - "Really wondering how many of the folks learning about succession planning are thinking about it for themselves. M & A is going to make BIG changes in the #Accounting sector in the next 3-5 years."
Alana M. - "Awesome tip from Daniel Moshe's tech session this morning. You can set up your router to create two different networks, one for personal and one for work. Suggested name 'Mom's Work Don't Use'."
Good Old-Fashioned Fun at Scaling New Heights
This year's conference-wide party was one for the record books! A great many thanks go out to Gusto, Ignition, and Guideline for the "Back to the Future" 80's themed party, complete with a Delorean, arcade games, music and dancing, and food and drink. The attendees were ALL IN with the party theme.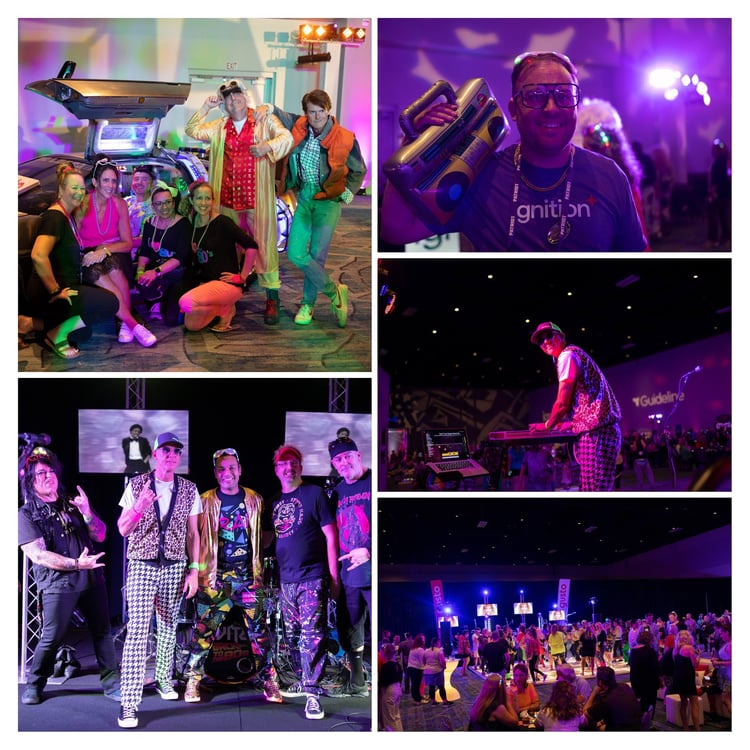 Don't miss out on Scaling New Heights 2023!
This year's conference was truly amazing, and next year's conference will be equally awesome! If you haven't already, make sure you register for Scaling New Heights 2023.