This year, social security recipients will see a large cost of living increase on their monthly social security checks. This news is important not just for those who are receiving social security, but also for every worker.
The 2022 Social Security increase
This year's social security cost of living increase is the largest increase since 1984. After increases ranging from 0.0% to 3.6% over the last 10 years, this year's increase of 5.9% may be welcome news to recipients.
But it shouldn't be.
The increase is actually due to the surging inflation we are seeing. This increase does NOT represent increased buying power for social security recipients. Instead, it is simply a "guestimate" of what inflation may do this year. The fact remains that inflation may increase beyond this guestimate, meaning that those who rely on social security as their sole or primary form of income may actually end up worse off this year as their increased check amounts don't match rising prices.
In these uncertain times, everyone - retirees and non-retirees - should review social security earnings, understand estimated monthly benefits at retirement, and create additional savings plans.
What is "my Social Security"?
The Social Security Administration has created a portal for taxpayers to access their personal Social Security accounts. The free "my Social Security" account is for everyone, whether you already receive benefits or not.
Your "my Social Security" account will allow you to use personalized tools to complete activities ranging from requesting a social security card to estimating future benefits or managing the benefits you already receive.
What can you do with your Social Security account?
Almost everyone can use their Social Security account to request replacement Social Security cards. There are four states that are not currently eligible for this feature - Alaska, New Hampshire, Oklahoma and West Virginia. In addition, this service is not available if your driver's license or identification card was issued by a U.S. territory.
If you are not yet receiving social security benefits, you can;
Access personalized retirement benefit estimates
Access estimates for spouse's benefits
Get proof that you are not yet receiving benefits
Check application status
Get your Social Security Statement
If you are receiving social security benefits, you can;
Set up or change direct deposit
Get a Social Security 1099 (SSA-1099) form
Opt-out of mailed notices for those you can access online
Print a benefit verification letter
Change your address
How do you create a "my Social Security" account?
The first thing to know is that it is quick, secure and easy to create your account.
If you have already created an account through either Login.gov or ID.me, then you will be able to use those login credentials and simply login to your Social Security account here. This is also the link you will use if you created a Social Security account before September 18, 2021.
If you do not have credentials through Login.gov or ID.me and have never created a social security account, you will create your "my Social Security" account here. Please note: the URL for this link is through login.gov, not through the Social Security website at SSA.gov.
How do you review your historical earnings reported to the Social Security Administration?
When you log in to your Social Security account, the home page lists the most commonly used features. I've included a copy of the top portion of my own Social Security account below. You will see the four most commonly used activities at the top of the page (including how to replace a Social Security Card.
The next section of the home page includes a section showing your eligibility and earnings. You should review your eligibility and earnings annually to ensure that your wages are being correctly reported. To review your earnings, simply click on the "Review your full earnings record now" text link shown below outlined in red.
If you notice, directly above the link to review your earnings, my Social Security account shows that I earned $0 in 2021 and it asks me if that is correct. Don't be too concerned if you see the same on your account. When you click through to review your earnings, you are advised, "If the earnings missing from your Social Security record are for the current year or last year, you don't need to worry. Because these earnings are recent, we may not have recorded them yet. They should appear on a later statement."
I have actually created a task for myself to return to this page and review my earnings mid-year.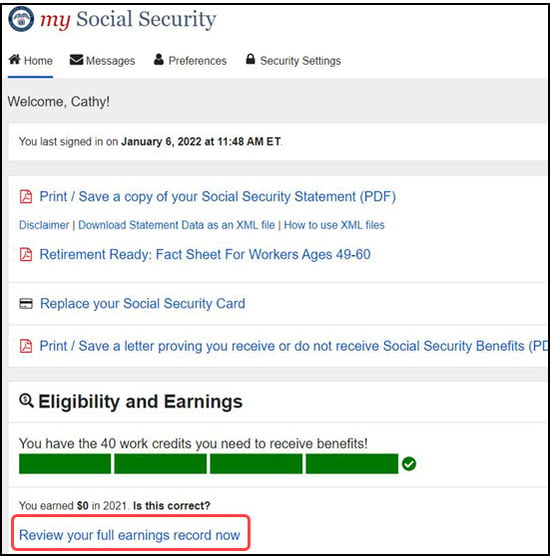 How do you estimate your Social Security monthly benefit amount?
Just below the section on Eligibility and Earnings is a section titled "Plan for Retirement". And that truly is what this section should be used for - to proactively determine your retirement future. By estimating what your monthly benefit will be, you can factor that amount into any savings and investment planning that you are doing - or will be doing after reading this article!
The monthly benefit estimator is very easy to use - you can enter different ages for retirement and different future annual salary amounts to see what you could expect your benefit amount to be. In addition, you can include spousal retirement benefits. Please note that there are conditions around spousal benefits, including how long you have been married (or divorced). In addition, if you have a work history, you will receive your benefit or the spousal benefit, whichever is greater. Learn more about maximizing your social security benefits.