With the season of thankfulness upon us, we asked Dawn Brolin how the accounting and bookkeeping community has impacted her journey as an accounting professional, speaker, and author. She shares her story of learning, networking, giving, and gratitude with us in this article!
Where do I start?  How can I possibly describe how the ProAdvisor and accounting community have supported me for so many years?  The very community that embraces EVERYONE, who gives and gives, and educates everyone and anyone who comes along...well, I'll do the best I can.  I have a story about that, a conversation about how important this community is to me.  
Find mentors to guide the way
My tale is simple and begins in 2006. I was in a partnership, and I finally received permission to attend my first in-person training. I traveled to Hartford, Connecticut, where I saw MB Raimondi talk about QuickBooks' recent updates. It was so impactful, and I remember as part of our registration for the session, we were given a copy of the actual QuickBooks Desktop installation disk!  I thought it was SO cool!
The next year, in 2007, I met Leslie Capachietti  in Boston, Massachusetts, when I attended my first certification training.   This was the first of its kind, an advanced QuickBooks Desktop training.  Sure, the in-person "What's New Tour" highlighted the improvements of QuickBooks Desktop, but an in-person certification?  No way.
During the presentation, I noticed that she was wearing an amazing sweater with the words "Intuit Academy" on it. Intrigued, I approached Leslie at the conclusion of the session and asked, "Hey, how do I get one of those sweaters?"  She told me, "You should join the Intuit Accountant Council," to which I answered, "well, what the heck is that?" She went on to explain that one of the benefits of being on the council was the opportunity to apply and join the Intuit Trainer Writer Network. She gave me the link to an online application.
I submitted that application, and after going through the application process, I met with Andy Ancheta (formerly of Intuit, now with Karbon), who was in charge of the council back then, for my final interview to become a member. That was the start of my journey in this community.
Without Leslie's willingness to extend her hand and help me up, I would not be close to being in the position I am in right now. After joining the council, I built long-standing relationships with many other incredible people, many of whom I am still close with now. (There are so many of them that I'd hate to mention names and risk forgetting even one of them!) I loved my days working on the What's New Tour in 2010, savoring the adventure, and eventually joining the Trainer Writer Network.
Build relationships that are powerful
It's funny, Michelle Long recently posted a photo on Facebook of the seven of us who served as trainers back in 2010. In the photo, you can see me in the same picture with my first real "instructor interaction," MB Raimondi. She is one of the best trainers, and I feel privileged to have contributed even a little to what she began all those years ago.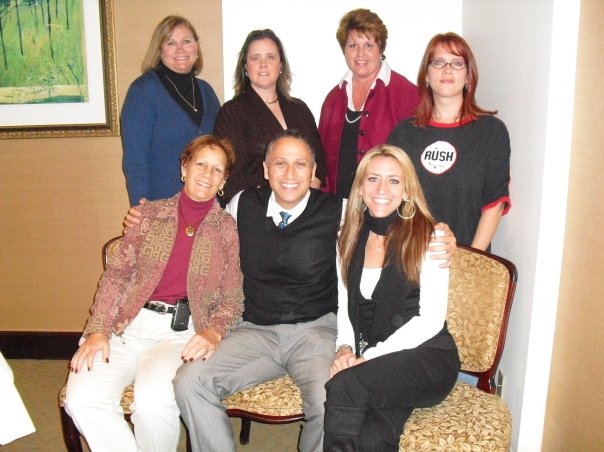 Now, there are a ton of Facebook groups, educational resources, and people developing their own QuickBooks courses. Anyone looking to learn how to use QuickBooks or own an accounting firm can find valuable resources at any time at their fingertips. I've had so many wonderful connections throughout the years, as well as countless wonderful chances to give, learn, share, and give again. 
My life has transformed as a result of the connections I've made in this group. It has given me the opportunity to educate, train, and assist others as they go along their journey. In-person training and learning opportunities truly took off in the accounting industry, and so many have formed amazing friendships and gained so much knowledge from them.
In-person events can make all the difference
There is nothing else like these in-person learning opportunities, like conferences. The creation of lifelong personal bonds is amazing.  Being able to learn about people on a personal level, not just professionally, and the connections we've made with one another and the technology vendors is absolutely priceless. These brilliant software developers that assist us and our practice on a daily basis have been wonderful. I genuinely believe that this community has come together for the benefit of both the people who work in it and the industry as a whole.