In the competitive landscape of accounting, the Woodard®️ Top 50 Client Accounting Services Practice Awards carve a prestigious niche, recognizing exemplary firms. This year, Hire Effect has clinched a spot, showcasing its commitment and innovative approach.
Established in 2007 by Jennifer Scott, Hire Effect has emerged as a reliable partner for small founder-led and family-owned businesses. Offering outsourced advisory services covering finance, HR, and recruiting, the firm utilizes modern cloud-based technology coupled with a people-first approach, making a substantial impact in the industry.
Beyond Compliance: Adding Value to Client Relations
The backbone of Hire Effect is its robust team of 22 full-time and 18 part-time members. Each client is paired with at least two team members, ensuring continuity and reliability in service. This practice underlines the firm's dedication to providing uninterrupted and dependable service to its clientele.
Hire Effect's engagement goes beyond mere compliance. They are a strategic ally, offering valuable advice that empowers clients to make informed decisions and enhance their performance. It's not just about meeting the needs; it's about adding value and fostering a collaborative relationship with clients.
Technology Integration and Unique Offerings
The firm holds a solid grasp on technology integration and data security, employing systems that meet high banking and financial data security standards. This tech-adept approach not only streamlines the accounting process but also instills confidence among clients regarding the safety of their data.
Unique offerings like outsourced human resources and recruiting and talent acquisition services help set Hire Effect apart in their market. The former assists clients in cultivating a culture of accountability and responsibility within their teams, while the latter enhances their prowess in conducting effective interviews and making astute hiring decisions. These offerings embody Hire Effect's holistic approach to client service.
Celebrating Success and Looking Ahead
The firm's accomplishments were celebrated at the annual Scaling New Heights® conference, a hub for innovators in accounting. Joe Woodard, the visionary behind Woodard™, stressed the importance of not just adapting to the evolving landscape but also spearheading novel approaches to support business clients—a mantra that Hire Effect resonates with.
Reflecting on the award, Jennifer remarked,
"We are so honored to be a part of this incredible community. Winning this award is great validation for our team and recognition for how hard they work to help our clients grow." – Jennifer Scott, CEO and Founder, Hire Affect
Her words encapsulate the essence of this accolade and the pride and motivation it instills in the team.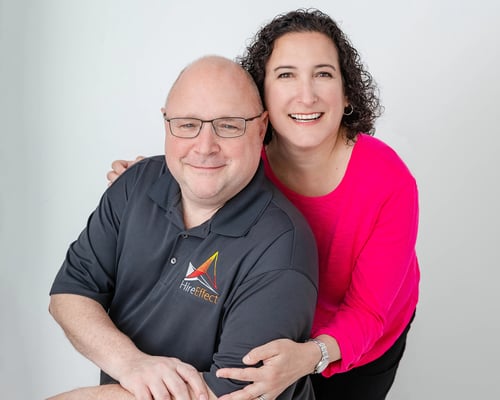 Chris and Jennifer Scott
Nominate your firm for the 2024 awards
The nomination period for the 2024 awards begins on August 1, 2023, and concludes on December 31, 2023. If you deem your firm or another deserving of recognition, it's an opportune time to nominate them and let their diligence and innovation gain the acknowledgment they deserve. For more about the award and the nomination process, visit Woodard Top 50 Accounting Services Practice.
Explore more about Hire Effect's remarkable narrative and their diverse service offerings at their website. Their journey exemplifies how a firm can synergize with clients, leverage technology effectively, and make a significant positive imprint in the accounting domain.